New button design! Well, two designs. An update to the original, plus an inclusive NEW design…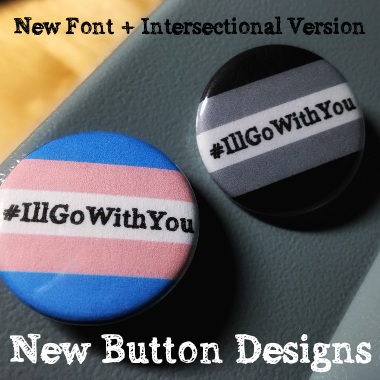 First, we've changed the font on the original button a bit, so the text is a little more bold. We recognize the current climate of the United States (and other countries) requires we be stronger and more visible in our efforts to provide safe haven for transgender individuals within our communities.
As for the alternate version being offered, many individuals within the trans community, some of whom are not "out" yet, requested a button design which could be worn and not be an overt signal for those who may suspect they are a member of the LGBTQ community, potentially putting a target on them. 
We've also been called to recognize that our trans loved ones are not the only community members who need solidarity in public spaces and we want to offer an option for allies willing to provide assistance for anyone who may face harassment or discrimination in public spaces.
The new, monochrome version of the #IllGoWithYou button identifies the wearer as an inclusive point of safety, in spaces where discrimination or harassment may take place. These spaces may include – but are not limited to – retail establishments, public transportation, schools, public restrooms, changing rooms, recreational facilities, and workplaces. 
If you choose to wear either button (or both!), you also choose to be an active bystander. To witness. To speak up. To become the world you want to live in. 
Both buttons are available at our button store and new stickers, patches, and zipper-pulls will be available starting on December 1st (the original version is available now for all these).