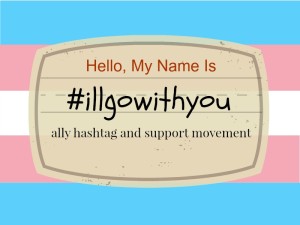 You've read our Guide for Allies.  You've bought your button (or sticker, or patch, or…). You probably follow us on Facebook, Twitter or Tumblr. Now you can sign a pledge to declare your support of trans and gender-nonconforming people.
The I'll Go With You Pledge:
I pledge to pay attention to the struggles and triumphs of trans people both in the national news, and in my own community.
I pledge to speak up against injustice. I will contact my elected representatives to make sure they know I support equity, justice and fairness for trans people in my country, state, city and neighborhood.
I pledge to advocate for the use of trans-inclusive language and practices in my community. I will not wait for a trans person to bring up issues like pronouns and bathroom safety. I am empowered to effect change.
I pledge to wear my #IllGoWithYou gear responsibly. I will avoid verbal and physical violence while wearing my button. I will consider my own safety first in any risky situation. I am a witness, a buffer, and an advocate – in that order.
I pledge to speak for myself and my experiences only. I promise to never tell any part of a trans person's story without their explicit request.
Leave a comment below (scroll to the bottom!) to pledge your support publicly.
You can also download a printable pledge for events from the Media Kit page.
Please note that comments on this site are moderated, so it may take some time for yours to appear. Thank you for understanding.